---
Networked Economy
While much of the world has suffered significantly due the widespread fallout from the Great recession, the overall economy in Austria has been remarkably hearty during this period. To understand the Austrian economy, one must delve into the type of capitalism that is practiced there. While Western governments proclaim to practice free market capitalism, very few follow those parameters set out by the originator of capitalistic doctrine - Adam Smith. Whether it is Washington lobbyists who throw fistfuls of dollars for political favor or the Asian countries with their heavily protected home markets, Austria practices what may be the most pure form of capitalism, the Austrian school or Austrian economics (also referred to as laissez faire Capitalism).1 This economic practice advocates that a government interferes as little as possible with the economy, focusing instead to provide a level playing field with neither penalty for success nor subsidy for failure. As a statistical example below are some of the major measurements of economic welfare comparing Austria to the United States (39).
Austria - US Comparison Table.
While these are only a small fraction of the measurements which could be made, the Austrian economy has been resilient during this period affording that country the ability to stabilize and grow without the massive economic stimuli many other countries have had to employ. ICT growth with the public and private sectors have been a significant focus in Austria ranking very highly in enterprise mobile broadband connectivity and having a very small rate of ICT related security incidents(40).
Enterprise Connections Table.

ICT Employment Opportunities (Stage 3)
In 2004, the eGovernment Act was enacted to bring about ICT investment and change to the country which had fallen behind much of the rest of Europe in its technological advancement. By 2006, Austria was ranked first in overall online service delivery within the European Union according to an Accenture statistical survey.4This act was created to advance the technological aptitude of the populace, availability of government services and improve the business environment where the overall economy could compete at an ICT level with other European countries on the basis of education, employment opportunities, and technological competitiveness. Under the guidance of the European Network and Information Security Agency (ENISA), the Austrian NIS strategy under the guidance of the Federal Ministries in coordination with private business has focused on the ICT resources available to its corporate community which is over 60% service related. Areas such as finance and banking, high tech, research and development, and commerce make a significant portion of these services and ICT jobs have become a significant portion of the total employment (over 20% as of 2007).5 This increase in ICT related jobs can be related to the focus of initiatives in ICT education, industrialization, and regional connectivity efforts as well as a concentrated growth strategy by Austrian businesses to advance their global competitiveness (41).
Austrian enterprises with Internet usage: 97.1% as of January 2008.
76% of the enterprises already use broadband to access the Internet.
the % of ISDN connections and analogue modems is further declining (35%).
79% of all Austrian enterprises already had their own website.
80% of all Austrian enterprises use online e-government services.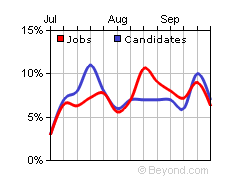 Current trends within the ICT sector for jobs show a relative maintaining of opportunities as well as an influx of available Austrian candidates for these positions.7 However, Austria lags behind other EU countries based on persons employed with user skills.
he graph represents the change in volume of IT job and resumes posted during the 3rd quarter of 2010. As the ICT education of the populace has been growing (referenced in the Networked Learning section), those high paying ICT opportunities have grown. However, the practice of nearshore outsourcing to Eastern Europe has been growing and now 28% of Austrian companies outsource between 40-59% of their software development work.

Business-to-Consumer (B2C) Electronic Commerce (Stage 3/4)
An overall explosion of B2C electronic commerce has enveloped Austrian commerce over the last five years. Through cooperation of several Austrian Federal agencies, the e-commerce trust mark was the first to be used within the European Union as a way to provide a security measure for safe online shopping to customers. This e-mark was directed at all online businesses within Austria and is best on best practices adopted from the European Code of Conduct.
What is of concern is the level of taxation of e-commerce in Austria. A value added tax (VAT referred to Umsatzsteuer in Austria) is assessed on all sales at a rate of 20%. This tax is assessed on all goods and services sold on the internet and is applicable to all businesses inside or outside of Austria (42).
E-commerce has been a governmental focus since 2000 with the creation of the E-Commerce Competence Center through the Federal Ministry of Economics and Labor combining leading Austrian companies with three major universities (University of Vienna, Vienna University of Economics and Business Administration) and Vienna University of Technology). This group focused on defining best practices and offering e-government resources to business for growth in the area of e-commerce (43).

Business-to-Business B2B Electronic Commerce (Stage 3/4)
Although Austria has been quick to adopt technology (as seen below in the general advancement of website adoption by private business, this advancement started later than many other countries within the EU and Austria is just recently adapting to make B2B a standard practice (44).
Enterprise Website Table
In 2010, 51.5% of enterprises making purchases online, Austria ranks 9th over all for eCommerce in the EU. 11 Especially important to the Austrian B2B economy has been the growth of ICT niche market with several companies being globally competitive including:
TTTech Computertechnik AG
ASFIN AG
X-Tention
While the growth of e-commerce has been steady over the past few years, businesses receiving internet orders is still under 20% total and the integration of this within internal and external business processes is only at 37.1% and 43.2%.12 These figures would place Austria at an average position of 10th within the EU for ICT integration with business process and ordering.
E-Government (Stage 4)
Since 2000, the Austrian government has made a point to ramp all ICT endeavors including the passage of the E-Government Act passed on March 1st, 2004.13This act put into place a wide array of electronic communication, standards, facilities, and information which is available to the citizenry and private business.
Since 2001, Austria has had a Federal Chief Information Officer who advises the government at a strategic and technical level and supports the formulation of e-Government policies while reporting to the State Secretary (45).
E-Government has been a high priority during this time for the Austrian government as a way to use ICT to reach the general populace with services and resources. They are well above average in areas of availability, service usage, and ties to business using e-government services.
Statistics from the Commission of the European Countries Table
Also an important ICT advancement focus for Austria's e-government is improving on and taking advantage of e-procurement technology for reduction of governmental expenses. Through the use of e-procurement, Austria has reduced its total spend by 18% (€178 million) (46).