---
Information Infrastructure (Stage 4)
Austria is one of the more developed nations in Central Europe with a reputation of promoting a high standard of living. The latest 2010 HDI (Human Development Index) statistics show that Austria ranks 25th in the world under the category of "very high development". Recent studies have shown that high HDI indexes equate to higher Internet penetration. Austria is no exception, where the Information Infrastructure has shown strong growth in recent years with the Internet usage rate at 74.8% and broadband penetration at 40%. In 2010, there was an estimated 48 mainlines per 100 units. These rates far exceed the requirements established for Stage 4.
Here are the latest statistics for Internet Usage vs. Population from Internet World Statistics:




Austria's information infrastructure in particular has benefited from strategic government leadership as well as a highly competitive telecomm industry which started in the late 1990s. Today, there are approximately 37 Internet Service Providers, with companies like Telekom and UPC Austria dominating the market. Beyond broadband, the mobile sector offers one of the lowest rates in Europe giving consumers even more options to connect to the Internet. The mobile sector is comprised of four main carriers A1 (formerly Mobilkom), T-Mobile, Orange and Drie. All four leverage their international parent companies for support which benefits Austria by influencing common technology standards.
Austria with its high internet penetration is in the process of shifting from providing connectivity to developing value added services like hosting services, unified communications and video. As the world moves towards the cloud computing and social collaboration becomes a cultural norm, the trend is due to shift away from land-based connections and more towards mobile technologies. The mobile industry in Austria sees this trend as well. Austrian telecom regulators last year concluded the country's 2.6 GHz spectrum auction raising a record 39.5 million Euros. The new 2.6 GHz spectrum in Austria will allow mobile companies to rollout the next generation LTE infrastructure (HSPA+) giving mobile devices the potential to connect at data rates faster than today's average land-base connection.
Overall, Austria's plan for the future is to exceed the goals established by the European Commission's Digital Agenda of providing every European citizen with 30Mbps broadband by 2020. With 40% of the infrastructure in place, Austria is well on their way to meeting this objective.

Internet Availability (Stage 4)
Internet availability is wide-spread throughout the country as consumers and businesses have many options to choose from. There are approximately 37 ISPs offering services to approximately 8 million people, far exceeding the ratio established for Stage 4 classification. Internet access is available in many of its modern forms: public hotspots, land-based connection (DSL, Cable, Fiber and dedicated circuits), mobile data internet and satellite. The DSL sector however has dominated the market and has overtaken cable as the preferred method of providing connectivity. For public hotspots, they do exist, but are widely scattered throughout the country, mostly found in major cities generously supported by small cafes or hotels. Cautiously, broadband based internet connectivity still CANNOT be counted on in the rural and mountainous parts of the country.
Ironically, internet users in Austria are slow in adapting to the usage trends and the services. Approximately 47% of Austrians connect to the Internet from home, 29% from work and the remaining percentage is split between educational facilities and mobile devices. Austrians spend the majority of their time on internet basics like emailing, looking for goods and services, Internet banking, online newspapers, playing games and lastly video conferencing. All in all, the lack of demand on advanced services have not stopped Austria from pushing forth in ensuring faster connectivity for all of their citizens while aggressively building for the future.

Internet Affordability (Stage 4)
Prices for basic telephony and internet are one of the lowest in all of Europe. This is the direct result of fierce telecom competition since the late 1990s. To level set affordability, it is important to understand where Austria stands economically. Austria is well developed socially and have benefited by joining the EU in 1995. In 2009, the median income in Austria was 28,849 Euros, 10% of households earn less than 12,627 Euros and 10% have more than 63,270 Euros. In that same year, 12% of the population was at risk of poverty.
Most ISPs offer a myriad of products ranging from individual residential packages to combination packages that include broadband, mobile and fix-line telephony. Illustration 1 and 2 shows two extremes of the lowest tier package to the latest Ultra fiber package that allows up to 100 Mbps download speeds. With many technologies converging into blended products, combination offerings like the one shown in illustration 3 are common. With these consumer options, Internet affordability is within reach for most citizens. Some ISPs even offer discount packages to students, further promoting a connected culture.
Business solutions are affordable starting with at base package of 45 Euros per month as shown in illustration 4. Many ISPs are pushing value added services, like unified communications, free blackberry services and webmail. These business class offerings not only better service level agreements but administrative tools along the lines of managed services.
Austria's Internet Affordability meets stage 4 classifications due to its ability to offer competitive pricing for all citizens and businesses. To address different needs, the telecom industry offer multi-tiered offerings from the very basic to the latest cutting edge technology. Consumers and businesses alike can shop around for the lowest rates without compromising service quality and performance.

Illustration 1 – Sample lowest tier Internet Package from Inode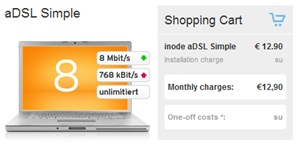 Illustration 2 – Fiber Power Ultra offering from Inode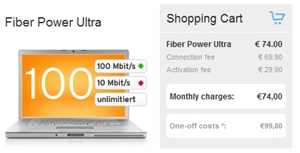 Illustration 3 – Combination package offered by A1 Telekom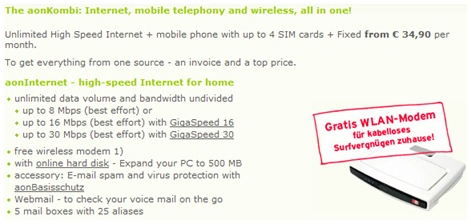 Illustration 4 – Basic Business and Secure Business Packages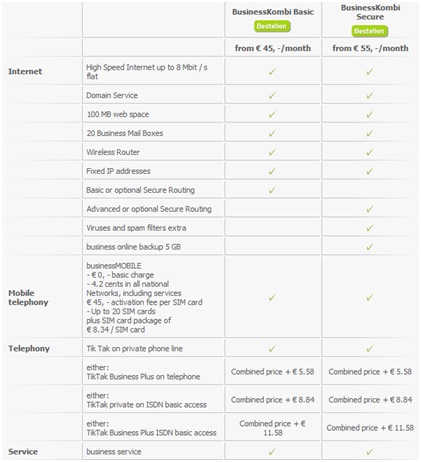 Network Speed and Quality (Stage 4)
Built for network speed and quality, Austria's development of the Internet backbone is extensive throughout the country. At a geographic level, the central and eastern part of Austria is constructed with dual redundant network rings with the western part of the country on a single ring. As shown in the diagram, coverage is highly redundant in the central part of the country and less so towards the mountainous west.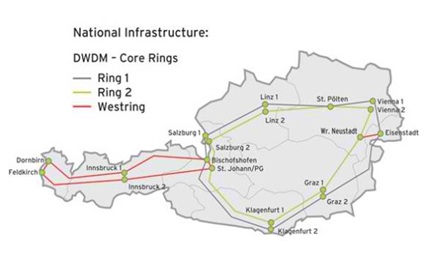 On a technical level, the latest Internet RIPE peer list in Vienna shows 65 active AS (Autonomous System) peers which are redundant pathways out to the rest of the world. This provides a solid foundation for all 37 Internet Service Providers to maintain quality and uptime. Compared to other EU, Austria has invested by far in its telecommunications infrastructure, deploying state-of-the-art technology where necessary. Dropped calls or faults are infrequent in the major cities. However, expect poorer coverage and service in the mountainous regions. Nonetheless, Network Speeds and Quality are well developed and meets the requirements for a stage 4.
Network speeds vary depending on the connection type used. Here are some popular ways of connecting to the Internet along with their respective bandwidth ranges:
• xDSL8-20 Mbps (Down) and 768k – 1 Mbps (Upload)
• Fiber 2-100 Mbps (Down) and 256k – 10 Mbps (Upload)
• Business Cable 2-4 Mbps (Down) and 2-4 Mbps (Upload)
• Mobile Phones HSPA+ Up to 7.2 Mbps
• Web Stick Pro HSPA+ Up to 21 Mbps

Hardware and Software (Stage 4)
The ICT sector is one of the most important economic sectors in Austria. The ICT sector is sizeable with approximately 15,000 companies, 170,000 employees and 45 billion EUR in revenue. Over 75% of the ICT revenue is generated in the Vienna area which ranks 3rd in all of Europe. Despite the success in the ICT sector, the Hardware and Software category is borderline stage 4. Depending on your locale, there is a slight divide in the hardware and software marketplace. Around Vienna, retailers are readily accessible, thriving in large malls or in standalone storefronts. Outside of Vienna, retailers are scarce. Fortunately, most major retailers have an online presence. Even international retailers like Dell, Lenovo, HP and Samsung are cost competitive and offer products that are readily available within the country.
Austria does not have a problem with localization for hardware or software, since German is the primary language spoken by over 86% of the population. Traditionally, German is widely localized by many software and hardware manufacturers world-wide.

Service and Support (Stage 4)
Austria's well developed infrastructure has eased the burden of service and support. Inherently, the competitive nature of the telecom industry in Austria have push ISPs to offer the best service and support. Telecom giant, A1 Telekom, is one of the long standing, incumbent service providers in Austria. In 2009, A1 Telekom call center had over 3,200 agents interacting with over 47,000 contacts a day, 17 million a year. The organization invested in a state-of-the-art CRM application strictly to speed up service provisioning and to increase first call resolution. As a result, A1 Telekom stands strong in customer support despite the explosion in the telecom market.
Around the more populous areas of the country, installing a mainline is trivial exercise and is typically completed within a few days. Most, if not all ISPs operate call centers 24x7 with sophisticated applications to call center operations. When it comes to service and support, Austria meets all the requirements for a stage 4 classification.