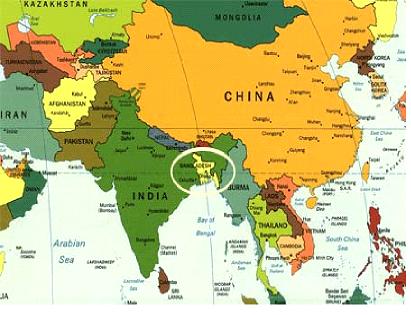 Geography
Area: 147, 570 sq. km. (55,813 sq. mi.); about the size of Wisconsin.
Cities: Capital--Dhaka (pop. 10 million). Other cities--Chittagong (2.8 million), Khulna (1.8 million), Rajshahi (1 million).
Terrain: Mainly flat alluvial plain, with hills in the northeast and southeast.
Climate: Semitropical, monsoonal.
People
Nationality: Noun and adjective--Bangladeshi(s).
Population: 140 million
Annual growth rate: 1.48%
Ethnic groups: Bengali 98%, tribal groups, non-Bengali Muslims
Religions: Muslim 88.3%; Hindu 10.5%; Christian 0.3%, Buddhist 0.6%, others 0.3%
Languages: Bangla (official, also known as Bengali), English
Education: Attendance—55.9% Literacy--52% for males; 31% for females; a total of 41% literacy.
Health: Infant mortality rate--48/1,000. Life expectancy—60.7 years (male), 60.9 years (female).
Work force (60.3 million): Agriculture--60%; manufacturing & mining—7.8%; others—28.5%.
Government
Type: Parliamentary democracy.
Independence: 1971 (from Pakistan).
Constitution: 1972; amended 1974, 1979, 1986, 1988, 1991, 1996, 2004.
Branches: Executive--president (chief of state), prime minister (head of government), cabinet. Legislative--unicameral Parliament (300 members). Judicial--civil court system based on British model.
Administrative subdivisions: Divisions, districts, subdistricts, unions, villages.
Political parties: 30-40 active political parties: largest ones include Bangladesh Nationalist Party (BNP), the Awami League, the Jatiya Party, and the Jamaat-e-Islam Party.
Suffrage: Universal at age 18.
GEOGRAPHY
Bangladesh is a low-lying, riverine country located in South Asia with a largely marshy jungle coastline of 710 kilometers (440 mi.) on the northern littoral of the Bay of Bengal. Formed by a deltaic plain at the confluence of the Ganges (Padma), Brahmaputra (Jamuna), and Meghna Rivers and their tributaries, Bangladesh's alluvial soil is highly fertile but vulnerable to flood and drought. Hills rise above the plain only in the Chittagong Hill Tracts in the far southeast and the Sylhet division in the northeast. Straddling the Tropic of Cancer, Bangladesh has a subtropical monsoonal climate characterized by heavy seasonal rainfall, moderately warm temperatures, and high humidity. Natural calamities, such as floods, tropical cyclones, tornadoes, and tidal bores affect the country almost every year. Bangladesh also is affected by major cyclones--on average 16 times a decade.
Urbanization is proceeding rapidly, and it is estimated that only 30% of the population entering the labor force in the future will be absorbed into agriculture, although many will likely find other kinds of work in rural areas. The areas around Dhaka and Comilla are the most densely settled. The Sundarbans, an area of coastal tropical jungle in the southwest and last wild home of the Bengal Tiger, and the Chittagong Hill Tracts on the southeastern border with Burma and India, are the least densely populated.
PEOPLE
The area which is now Bangladesh has a rich historical and cultural past, combining Dravidian, Indo-Aryan, Mongol/Mughul, Arab, Persian, Turkic, and west European cultures. Residents of Bangladesh, about 98% of whom are ethnic Bengali and speak Bangla, are called Bangladeshis. Urdu-speaking, non-Bengali Muslims of Indian origin, and various tribal groups, mostly in the Chittagong Hill Tracts, comprise the remainder. Most Bangladeshis (about 88.3%) are Muslims, but Hindus constitute a sizable (10.5%) minority. There also are a small number of Buddhists, Christians, and animists. English is spoken in urban areas and among the educated.
Sufi religious teachers succeeded in converting many Bengalis to Islam, even before the arrival of Muslim armies from the west. About 1200 AD, Muslim invaders established political control over the Bengal region. This political control also encouraged conversion to Islam. Since then, Islam has played a crucial role in the region's history and politics, with a Muslim majority emerging, particularly in the eastern region of Bengal.