Network Society
This section assesses Brazil's readiness for the networked world by examining how many members of Brazilian community access ICTs, and how they use them.

People and Organizations Online (Stage 3)
The number of online users in Brazil has been growing at an average of 79% annually for the last three years, and Brazil holds its position in the top ten of nations with regard to total number of citizens to with internet access. Compared to the total population of 160 million, the number of internet users (3.8 million), represents 5-7% of the total Brazilian population. However, 80% of internet users belong to the upper and middle classes. The gender distribution is almost evenly spread in the survey: 52% male and 48% female. Generally, online users in Brazil have been growing rapidly. Most of the population has heard of the internet, although 5-7 % of the Brazilian population has actually used it. Brazil falls into Stage 3 category for people and organizations online.

Locally Relevant Internet Content (Stage 2)
62% of internet users could speak English, but the number of Portuguese-language websites is increasing (Tigre et al., 1999: 17). Examples are: Yahoo! Brazil in Portuguese, special Brazilian-oriented search engines like Cadê, and the website system of Universo Online (UOL); based on the publishing companies Grupo Folha and Grupo Abril. Yahoo! Brazil, (http://www.yahoo.com.br), is the most popular service used in Brazil as it includes more than 12,000 Brazilian websites, as well as other Portuguese-language websites. Overall, Brazil has few local websites and most of them are created and hosted outside Brazil. However, there is an increasing number of Portuguese-language websites. Brazil is at Stage 2 in terms of relevant internet content.
<![if !vml]>

<![endif]>
Figure 1.0: TGI.net surveyed the internet users in Brazil. For the 6,669 persons between the ages of 12 to 64 years old who used the internet, the frequencies of usage of websites from different origins are shown in chart B. The trend is distinct in that local websites are preferred over foreign websites in one's own language, which is in turn preferred over foreign websites in other languages
ICTs in Everyday Life (Stage 3)
The lack of home-based internet access has not kept Brazilians off the internet. Instead, they use public kiosks and internet cafes to surf the Web. More than 10% of the clients of Bradesco, the largest private bank in Brazil, have registered internet banking accounts (1.3 million accounts in 11 million clients).
Only 19.8% of the Brazilian population owned a fixed-line telephone in 2001, according to Pyramid Research. To overcome its telecommunications infrastructure problems (primarily an underdeveloped land-line infrastructure), Brazilians are increasingly interested in mobile, satellite, and cable services. Pyramid estimates that 30.6% of the population will be mobile subscribers by 2006, while only 23.3% of the population will be fixed-line subscribers.
ICTs are fairly widely used in everyday life of middle and upper-class Brazilians. Therefore, Brazil is at the beginning of Stage 3 with respect to ICTs in everyday life.

ICTs in the workplace (Stage2/Stage3)
The 10th Annual Research on Informatics Resources Administration, carried out by the Applied Informatics Resources Centre of Fundação Getúlio Vargas (CIA/FGV, 2000) showed that 80% of the 1,500 researched companies have an online presence. Of the research group, 60% are companies classified among Brazil's 500 biggest companies.
On average, the Brazilian employee uses the computer for 290 minutes per day at work. They surf daily on the Internet for 185 minutes, reading, writing and sending emails an average of 69 minutes per day.
Overall, ICTs in the Brazilian workplace fall into Stage 2/Stage 3 since certain aspects of ICTs in the workplace place Brazil at Stage 2 while other aspects indicate a Stage 3 placement.
<![if !vml]>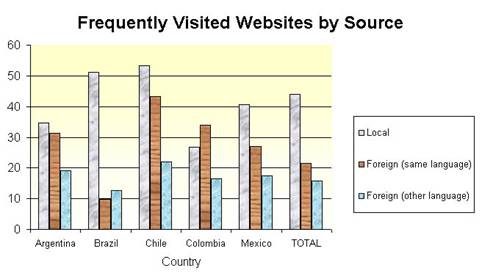 <![endif]>