<![if !vml]>

<![endif]><![if !vml]>

<![endif]><![if !vml]>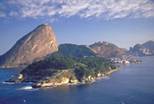 <![endif]>
About Brazil
The Federative Republic of Brazil is the fifth largest country in the world and is located in the central and northeastern regions of South America. Brazil's name derives from the Brazilwood trees that the European colonial powers sought in the in the sixteenth century to make valuable red dyes. Brazil gained its independence from Portugal in 1822 as a monarchy, and became a republic in 1889.
Brazil has a very long coastline on the Atlantic Ocean; with climactic conditions that vary from hot and wet in the tropical rain forests of the Amazon basin, to temperate in the savannah grasslands of the southern uplands. The official language of Brazil, in contrast to the rest of South America, is Portuguese; the capital of Brazil is Brasilia. According to the August 2000 census the population of Brazil is roughly 170,000,000, making Brazil by far the most populated country of Latin/South America. Brazil's economy, measured in GDP, is greater than Russia's and nearly twice that of Mexico.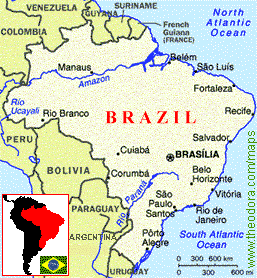 Brazil possesses enormous natural resources, including the world's largest rain forest; compromising sixty six percent of Brazil's total land territory.
The state of Sao Paolo is the financial center of Brazil and alone has a GDP of $240 Billion. Sao Paolo has a GDP per capita income of $7,000, nearly twice the figure for the rest of Brazil.
With an east to west territorial dimension of 4,319 kilometers, Brazil has four time zones. Along much of the Atlantic coast (Rio de Janeiro, San Paolo) time is three hours earlier than Greenwich Mean Time.
Brazil is positioning itself to participate more fully in the global network economy built on a legacy of capabilities in science and technology. The Brazilian Government has "emphasized controlled privatization and deregulation" in order to provide the information and communications technology sector (ICT) with a stable and flexible environment in which it can grow and adapt quickly. Brazil has a reputation as the most technologically and economically developed country of the Latin American world; producing over fifteen thousand active scientists in the past decade.
The purpose of this paper is to gauge Brazil's readiness for the networked world using the Harvard Center for International Development framework for developing countries. We will be ranking a whole host of ICT factors in Brazil on a scale from stage 1, most basic and underdeveloped, to stage 4, the most advanced and progressive. We will address each of these factors as they apply to Network Access, Network Learning, Network Society, Network Economy and Network Policy.