Tyrone Wilson received his undergraduate degree from Roosevelt University Chicago, Illinois, in the field of Computer Science. He received his Masterís Degree in Information Systems from DePaul University , June, 2010. He holds Microsoft, Cisco and Novell certifications. He also plans to pursue his Ph.D. in Information Sciences at DePaul University this fall.

I love going to Brazil. This was my second Study Abroad trip there. I learned a great deal more this time around because I knew what to expect and what to look for. I find the subject of Global IT very intriguing, especially in Brazil and other parts of South America.

I got a chance actually see more of Brazil this time. The beaches of Florianopolis are absolutely beautiful. I finally got an opportunity to workout with a Brazilian Jiu Jitsu expert and one of his students. They were great!

Thanks Yele for another excellent trip!!!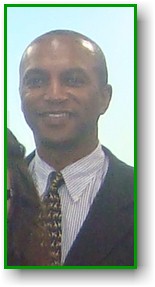 IS 597 Study Abroad, Brazil DePaul University
1 East Jackson Chicago, Illinois 60604